The sun has finally started to make an appearance and its pure bliss to feel those early summer rays against your skin. With this in mind, it's the perfect time to get outside and explore the great outdoors in all its glory. Fresh air and some fun outdoor activity is the ultimate stress relief and soul cleanser which we should all get involved in to keep us feeling great.
Get your walking boots on and explore some serene views
Walking is a great activity to clear your head or to spend some quality time with friends whilst also doing great things for your body and health. Luckily for us, the UK is blessed with tonnes of idyllic places where you are able to get away from the stresses of the city and every-day life.
1) For a scenic walk not too far from Birmingham, visit Lickly Hills. This gorgeous country park is only 10 miles from Birmingham and is the perfect spot for a family day out. Enjoy spectacular views and the vast array of wildlife, all only a stone's throw away from the bustling of the city centre.
2) Perhaps you prefer the idea of getting away for the weekend, and venturing further away from the city life. The Peak District National Park is the perfect place to do so. The beautiful landscape is only two hours away and easily accessible by car or train. The rolling hills and valleys are impressively scenic and a delight to explore. Finish a day's walk in one of the countryside's traditional English pubs for the true experience.
3) If you're really looking to expand your horizons and you want to venture away from the good old Brum and explore some foreign turf, Wales is a fantastic destination for you. Snowdonia National Park is home to the highest mountain in Wales and second highest in the UK, Snowdon. Standing at 1,085 meters tall, the views from the top of this mountain are outstanding. Snowdon has 6 different routes up to the top, these paths vary in difficulty so make sure you take the best one to suit your abilities (and make sure you pack some thick walking socks, a light weight jacket and a rucksack full of mars bars).

Pack up your rucksack and head to the coast
Living in Birmingham, you couldn't get further away from the coast. However this makes for a delightful change of scenery when you do decide to take a trip. An excursion like this may be best for a weekend away, or longer, due to the distance to the nicest coastal towns, so if you do head to the beach for a weekend, Make sure you fit in as much walking as you can. If you're heading away for the weekend, this also gives you the exciting opportunity to camp. A camping trip should never go amiss in the early months of the summer, whether it's with family or friends, it's an activity everyone can enjoy if you have the right comfortable and practical gear.
1) Southwold is a beautiful seaside town on the Suffolk coast. Camping here is an enchanting experience due to the unspoiled coastlines, superb walks and jaw dropping panoramic sea views. With a pier, a lighthouse and striking beaches, a weekend is the perfect amount of time to spend here to explore the stunning coast. Pitch up your tent in a local campsite, get the BBQ lit, and enjoy the peace and quiet of the great outdoors.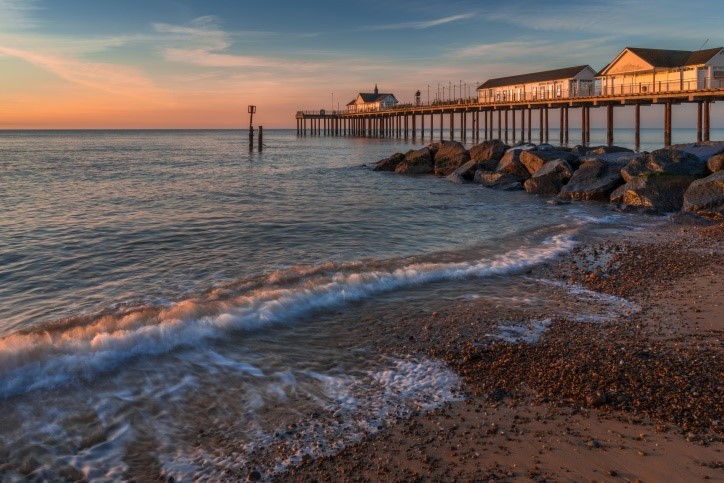 2) Abersoch is another beautiful coastal seaside village surrounded by fantastic beaches and even better walks. With a multitude of campsites to choose from, each with serene views and quirky characteristics, there's somewhere for everyone to enjoy the picturesque welsh community.

Cotswold Outdoors
Make sure you're kitted up with all the appropriate attire and equipment to get as much enjoyment out of these trips as possible. Cotswold Outdoor has everything you could need to prepare for these trips, so you don't need to worry as the kit is accessible to all.
Here we have prepared a list of the essentials we think you may need!
Walking Trip
• Walking Boots
• Walking Socks
• Lightweight windproof jacket
• Rucksack
• Water Bottle
• Fleece
Camping Trip
• Tent
• Sleeping Bags
• Sleeping Mat
• Small lightweight pillow
• Head Torch
• Stove / Fuel / Cooking appliances
• Camping chair
• Water bottle
• Flask
• Cool box
• Camping Kettle
• Hand Pump
So pop into Cotswold Outdoor to pick up everything you need for a weekend break or speak to a team member if you need any more advice.